B2B companies continue to be challenged with keeping their marketing databases up-to-date and accurate, and many are learning that it is important to focus on what matters most to their business to maximize time and resources. Identifying the data and metrics that have the greatest impact on the company's bottom line allows marketers to align their priorities.
This special report covers the current state of B2B data, while also highlighting trends and best practices progressive B2B organizations are implementing to make the most out of the data they collect. Read on to find out how companies such as Brainshark, Pasternack and VMware are effectively leveraging data in their marketing initiatives.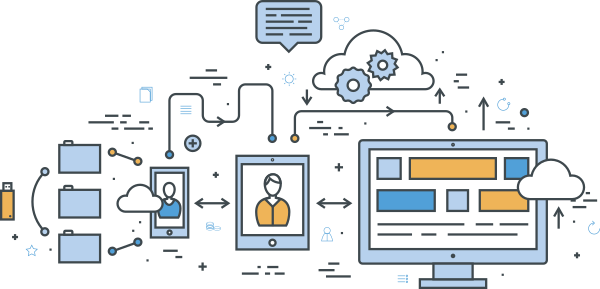 The State Of The Marketing Database
69% Percentage of marketers that said the top challenge to data quality is old or outdated information
B2B marketers view their contact database as the foundation of their marketing initiatives, but implementing a solid database strategy remains a future goal rather than a current reality. Marketers typically have some type of plan in place for database marketing, but acknowledge it needs work. According to Demand Gen Report's The Database Marketing And Contact Acquisition Survey Report., published in September 2015, a majority of marketers said there is room for improvement in their database strategy.
Hover over the graph to see the stats
B2B marketers also struggle with data quality. This has always been a stumbling block for marketers with B2B data, and the research underscores that it remains a challenge; they simply have not discovered effective processes to maintain data quality.
34% Marketers that said their primary goal with the database is to enable targeting to specific prospect and customer segments.
Marketers have tangible goals for using database marketing and data acquisition tactics, and targeting is high on the list. One-third of B2B marketers (34%) said that their primary goal with the database is to enable targeting to specific segments for better engagement, while 18% said reaching the total addressable market in defined sectors is the goal. Forty percent of those polled said they are focusing on three goals – targeting segments, reaching total addressable markets and growing the database to add new contacts – which suggests they are trying to achieve a comprehensive database approach.
Savvy marketers are investing time in getting the targeting portion right. "One thing we've zeroed in on is getting specific about exactly who we're talking to, said Theresa Kushner, VP-Enterprise Information Management at VMware. "We make sure our target is well-defined, and the personalization we get on an account is added to and maintained."
Acquiring Prospect And Customer Data
One underlying challenge in constructing an actionable contact database is that most marketers rely on basic web forms to collect prospect information.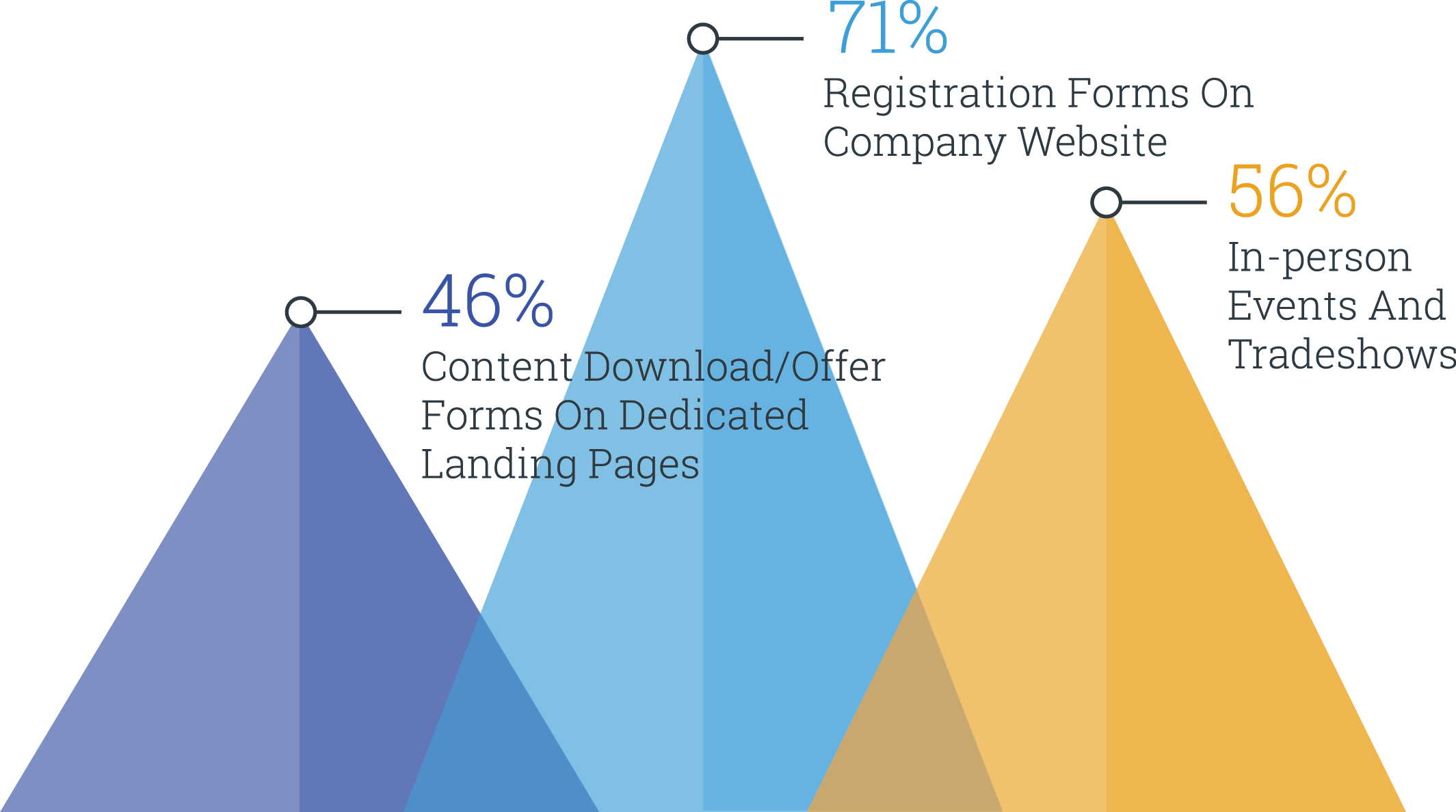 51% B2B marketers that said buying timeframe was in the top three most valuable pieces of data on customer prospects
Beyond the basic data – name, email address and company name – B2B marketers said the top three most valuable pieces of data and information they would like to obtain from prospects are buying timeframe (51%), budget information (39%) and the industry vertical (26%) of the customer target. These data can be harder to come by and often require consistent lead nurturing to coax the information from prospects and customers. This is an area where working with data append companies and data enrichment providers can help.
The marketing group at Brainshark, a maker of sales enablement software, took that approach. They enlisted ZoomInfo, a business data provider, to append important information such as direct-dial contact numbers onto the internal database.
In fact, all B2B respondents surveyed by Demand Gen Report are employing data appending and enrichment to supplement their in-house customer database, and one-third of marketers are using social media data to further enrich customer data. Web-based behavioral data and tradeshow attendee lists are additional sources of information for marketers.
However, data appending and enrichment vendors ranked as the most effective third-party data source among B2B marketers looking to the outside to garner intelligence on current and future customers.
Data appending and enrichment vendors ranked as the most effective third-party data source among B2B marketers looking to the outside to garner intelligence on current and future customers.
Gathering additional intelligence, whether intent data through predictive intelligence, or additional data on current customers, is important, but those needs change depending on a marketer's goals and how they intend to use it.
"There's this feeling that intent data — getting everything the customer has done on the web and feeding it into a model — will create a much better model," Kushner explained. While this data is helpful for prospects you don't have any information about yet, Kushner said it's sometimes better to comb through your own resources if you're looking to predict what will appeal to known prospects.
"If you know the customer and create models for how much they will spend … you should use the data you have on customers themselves: What did they buy? When did they buy it? What are their support records? When does their contract expire?"
She added, "That's more powerful than buying intent data." In a recent VMware product campaign, Kushner explained that, "We needed to make a dent in the revenue of that particular product." Her team created a propensity model and focused on internal data purchases, time of purchase and size of purchase, and then targeted those with the greatest propensity to buy additional products.
"It's really about the most important data," Kushner said. "Marketers don't tend to look at their data and choose which information is most important. You have to take the time and invest in that process."
Data Cleansing Crucial For Good Data Hygiene
Keeping prospect and customer information up-to-date and accurate continues to vex B2B marketers. Part of the challenge is that marketers are simply not performing data cleansing often enough to keep track of contacts. Just one-fifth (21%) of marketers are ahead of the curve when it comes to data accuracy; this segment indicated they are updating/cleaning their data in real-time.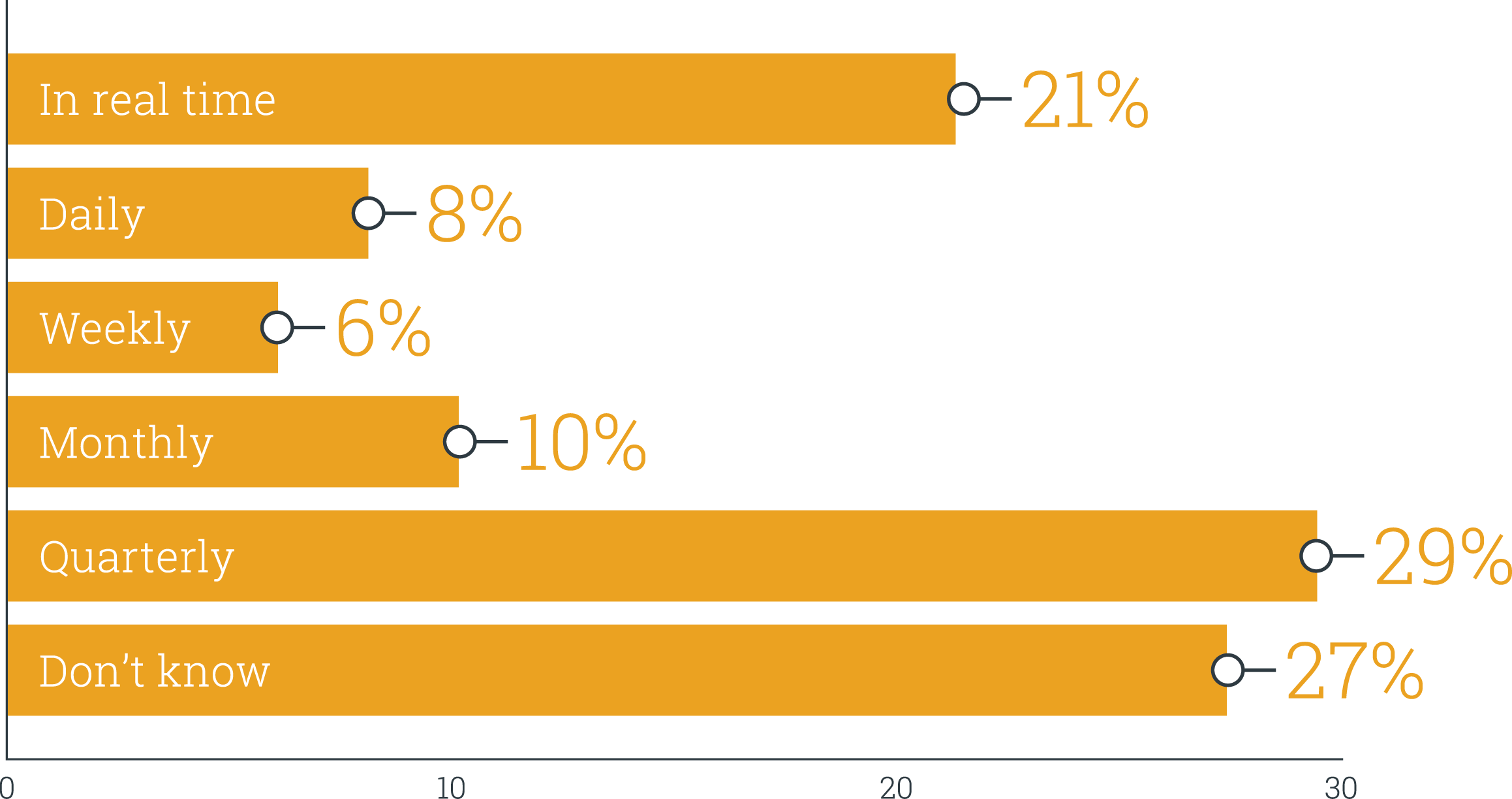 46% Marketers that said they don't have the time or resources to implement an effective data quality management process
Real-time data management is the best solution to the data quality issue,
Pasternack Enterprises, an electronic components supplier to companies in the technology, aerospace, defense and telecom industries, currently has roughly 3 million records in its database, and Senior Marketing Manager Shaun Gameroz said, "It's pretty close to pristine in terms of marketable data and how clean it is." Gameroz said the data is likely more general than what many B2B marketers possess: name, postal address, email and purchase history are the main data points, plus industry and job title. The company markets its products to electrical and design engineers. He led a company effort to improve database strategy over the past year and a half, and it is paying dividends, he said. Among the simple tools he is using to keep the data clean is internal software they created that updates the data to the U.S. Postal Service's NCOA (National Change Of Address), CASS certification and Delivery Point Validation standards. "We update it constantly," he said.
For outbound campaigns, the data is run through matching and de-duping software it licenses, called MatchIT, and then imported back into the companies ERP platform, he said.
Kushner said VMware practices a similar strategy. she said, likening customers to fine silver. If you keep silver in the closet, it will tarnish, but if you use it regularly, it will maintain its shine and brilliance. "Make sure to add and maintain what you learn about them," she added.
"The best way to keep data clean is to use it."
Pasternack has seen impressive results from its own database improvement project, and it installed Microsoft CRM less than two months ago. He said Microsoft CRM integrates well with Microsoft Dynamics and enables the company's inside sales team to access customer history. Those team members have been able to educate customers about the breadth of Pasternack's product universe and cross-sell them additional products they might need. "Many customers think of us as selling product category X, and they had no idea we also offer category Y." Gameroz said that in the short time they've had the CRM up and running, the sales needle has spiked significantly.