Another example of how companies are leveraging interactive content effectively is the FedEx Small Business Center, which offers tools and resources for businesses on topics such as freight shipping, e-commerce and global markets.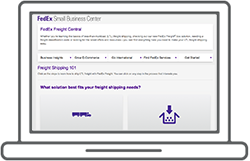 FedEx's Freight Central guides the customer journey
The company launched six new content experiences in May 2016 designed to educated prospects on freight shipping, classification and international customs compliance. Prior to this interactive content initiative, FedEx Small Business Center had static content pieces and measured no more than who downloaded them.
"Ultimately everyone wants conversions, but we're aiming for our interactive content to educate our audience on the proper way to ship, so the customer journey has no speedbumps," said Danny Kirkman, Marketing Specialist Advisor at FedEx Services, in an interview with Demand Gen Report.
Measuring this engagement was an initial challenge for FedEx since the company had an in-house database, which meant integrating solutions were challenging. Leveraging Ion Interactive and Adobe Experience Center, FedEx was able to create custom integrations that allowed Kirkman's team to collect and aggregate prospect engagement data.
During the first two months, Kirkman's team has had more than 50,000+ unique visitors for its FedEx Freight experience. Previous traditional content formats averaged between 6,000 and 10,000 unique visitors.
By tracking their behavior, FedEx found that 23.8% of engaged viewers were coming from mobile, which highlighted a need for responsive content that could be viewed on any device. Kirkman added that his team "saw a 14% conversion rate on the company's LTL freight classification tool via mobile."
"We're getting good response rates; our issue is more about the customer and making sure their journey is finding the content," Kirkman noted.
FedEx analyzes a handful of metrics, including conversion rates, tool completion rates and arriving on the final screen of the experience. "A lot of people are hitting the 'start-over' button, which highlights that they are using the tool multiple times for each shipment they may have," Kirkman said.
The FedEx Small Business Center plans to expand its interactive and video offerings to a total of 12 experiences. Kirkman said they will also incorporate a YouTube channel to pull video in from there.
"We're moving forward because the content is working, and our prospects are responding, and that's what really matters," Kirkman concluded.
"If you can increase [lead scores] for someone by serving them up additional content in an interactive asset, all of a sudden you [turned] someone into an MQL without ever sending them another email."
- Dana Harder, Content4Demand