Agency-Publisher Partnership
The Goal
Networked Insights and Walker Sands wanted to identify the brands that capitalized on their sponsorship of the World Cup and which brands were able to newsjack the sports event in new and compelling ways. Using the Networked Insights platform, Walker Sands dove into real-time data to acquire insights around overall brand metrics, consumer reaction data and audience data.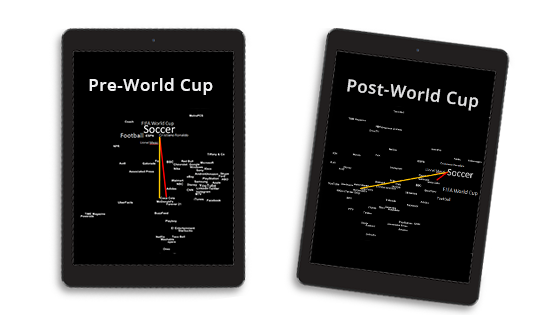 The Asset
The companies developed a series of preliminary reports and data sets, including:
Which brands were "winning" or "losing" the World Cup
"Hidden" World Cup audiences advertisers could capitalize on, including where they lived, what media they consumed and what their interests were

How media habits changed during the World Cup.
At the conclusion of the World Cup, Networked Insights named the final brand winners and losers of the tournament.
The Results
The campaign resulted in 16 major placements and 71 million impressions. Coverage was won in major media outlets such as The New York Times, the Travel Channel, Bloomberg TV, MarketingProfs and Adweek. The campaign also acquired social shares across Facebook (750), Twitter (1,744) and LinkedIn (1,139). Most importantly, the coverage resulted in several inbound leads from World Cup advertisers with a potential of more than $1 million in new business for Networked Insights.
Lesson Learned
Use data to not only identify meaningful industry trends, but also build compelling stories around events, holidays and other topics.
The Goal
SAP, gyro and Forbes Insights wanted to create an information hub specifically for CMOs, giving them a place to share information, find resources and gain insights into the dynamic CMO role.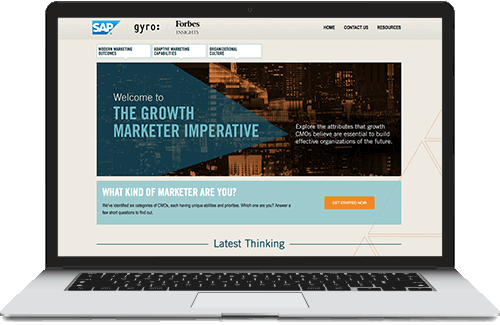 The Asset
The Growth Marketer Imperative, www.growthmarketer.org, was created to be an information hub where marketers can find the latest resources and insights into the ever-transforming CMO role. The website provides timely information in an entertaining, emotionally compelling manner. More importantly, this content is relevant and can help marketing leaders achieve their business goals. The hub features in-depth research and interviews with more than 300 senior marketing executives from around the world, providing a statistical portrait of the CMO and the critical tasks elite CMOs are undertaking to succeed in their role. Content includes:
White papers, articles, infographics, SlideShares, webinars, and videos

Social media posts, blog posts, and emails via SAP, gyro, and Forbes Insights to keep the conversation going beyond the site

First-hand accounts from senior marketing executives
The Results
Since its launch, the website has received more than 2,000 visits and more than 1,400 unique users. More than 435 leads have been captured. Since it's launch, site visits and leads continue to grow, demonstrating the need for CMOs to have a peer forum to collaborate and consume information.
Lesson Learned
Always keep your target buyer at the center of your messaging and content strategy. Find out what makes them tick and what keeps them up at night, and offer a variety of tools, resources and communication channels to help them succeed.
The Goal
Following an acquisition in 2015, Bottomline Technologies sought to introduce its new cyber fraud and risk management solutions to a predominantly new buying center within large financial intuitions. The company's demand generation team set out to build awareness around its expanding portfolio tailored to banks.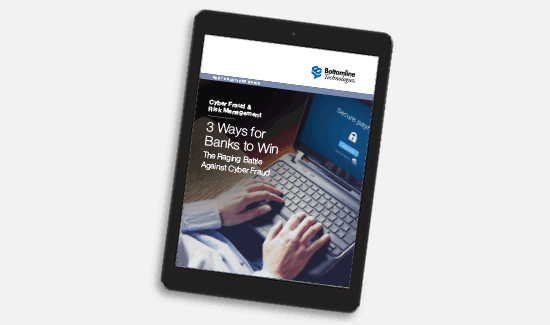 The Asset
Bottomline Technologies partnered with Content4Demand to develop 3 Ways for Banks to Win the Raging Battle Against Cyber Fraud. The three-point best-practices guide featured attention-grabbing industry research and communicated Bottomline's core strengths for helping banks combat cyber fraud.
The company also worked with Spear Marketing on a thought-provoking creative theme to acknowledge a holistic view of what is happening and the ability to react in real time. The email was distributed to BankNews subscribers and to Bottomline's customer and prospect database.
The Results
Within days of sending the email, BankNews reported back with the following results:
1,476 emails opened
708 total clicks
48% click-to-open rate
According to BankNews, nearly half of responders who opened the email found the content and creative compelling enough to want to click through and engage with the best-practices guide.
Lesson Learned
New channels are always emerging, but email is still a powerful channel to engage with buyers, especially if you have the right partner and right list of contacts.