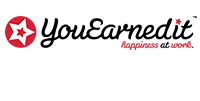 The Asset
The multi-touch campaign consisted of:
50 Employee Behaviors To Recognize And Reward (Guide)
50 Free And Meaningful Employee Rewards (List)
How The Cool Kids Attract And Retain Talent (SXSW panel)
Ultimate Guide For Engaging Millennial Employees (Guide)
Each piece of content was promoted within a blog, landing page and "thank you" page. Content was also distributed through the YouEarnedIt website, social media channels, outbound emails and guest blogging calls-to-action. The company created workflows, so related follow-up content was automatically delivered based on reader behaviors and segmentation.