The Goals
Sage wanted to use social media content to attract and engage the startup community in the UK through videos inspired by the popular Humans of New York project. The company launched a global Instagram channel, and wanted to increase top-of-funnel social content on Facebook and Twitter to generate reach and engagement. An additional goal was to promote the company's Sage Summit event in Chicago.
Sage knew that in order to penetrate the startup audience, the company needed to work with a content creation expert that was also a social influencer. As a result, the company partnered with Mark McDonagh and Graham Hussey, collectively known as Startup Van.

The Assets
Sage opened a week-long pop-up content studio in London — the Humans of Business Pop-Up Content Studio — and interviewed 75 different startup executives. The company produced 225 videos, which were then divided into three types:

→ "The Experience," which included interviews about startups, so they could share the story of what they do and how they got started.

→ "Quick Fire Round," which were more fun and light quick-fire interviews with startups.

→ "Sage Advice," which were 60-second videos with startups giving their best piece of advice to other startups.

The first two video categories were co-branded and published by both Sage and the Startup Van in order to maximize reach. The third video category was exclusive to Sage.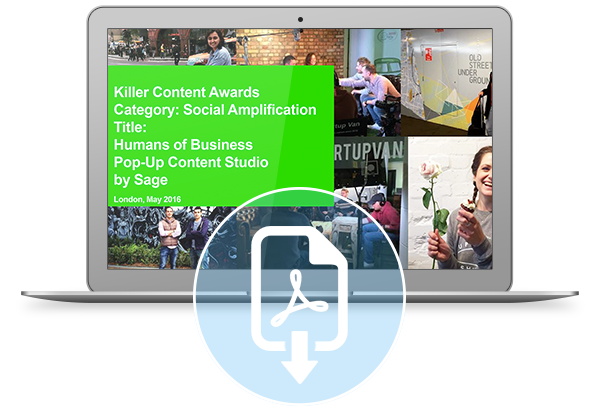 The Results
The program's video content launched on June 20, 2016. Since then, the company has achieved:

→ A 47% increase in standard engagement on the @SageUK Twitter account;
→ A 66% increase in standard engagement on the Sage UK Facebook page;
→ 1.8 million Twitter impressions and 763 total engagements on Facebook; and
→ A reach of 46,215 people on Instagram, generating 273 total engagements.

Additionally, the company posted three Facebook Live videos from the studio, which achieved:

→ 2,460% increase in standard Facebook engagement;
→ 1.28% reach engagement rate — compared to the standard of 0.05%; and
→ 25,724 people reached on Facebook, 804 live video views and 575 engagements.



Lessons Learned
Videos are prime content assets to share on social media. Use pre-recorded videos and live tools to generate awareness and top-of-funnel engagement in a cost-effective way.